---
In short:
Supercell and spin-off potential are on the radar;
Afternoon and evening will be something to watch out for;
Heavy rain, strong winds and large hail are possible.
---
Thunderstorms are expected on Saturday. A zone of moderate risk is developing from the Outais to the Chaudière-Appalachian region through Montreal and Quebec. Many of these regions already exist Under severe thunderstorm watch.
We are particularly monitoring the Laurentides and Lanaudière sectors, where supercells are likely to develop in the late afternoon. So cyclic risk cannot be ruled out for these areas.
---
Good to know: A supercell is a violent thunderstorm. Due to this, cyclones are likely to form.
---
A low risk of thunderstorms still extends to the Côte-Nord region.
A strong wind blows up to; At 90 km/h, heavy rain is possible. In extreme cases of disturbance, accumulations of up to 40 mm can be shed. Large hail is also not impossible.
Excessive humidity
The humidity has pushed temperatures above 30 degrees in recent days. It will go up a notch on Sunday. To round out the weekend, Sunday will be marked by a combination of scattered thunderstorms and the formation of isolated cells due to the entry of a system. On this day, South, Central and North-West regions are likely to receive thundershowers. However, Saturday will be less risky than tomorrow.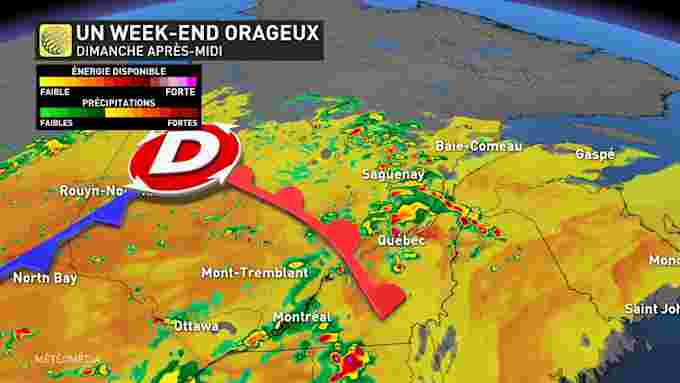 ---
See also: A weather factor can short-circuit the heat
"Music geek. Coffee lover. Devoted food scholar. Web buff. Passionate internet guru."