In sad news for stealth game fans, it looks like Snake's opening mission through Shadow Moses will move slower than expected. Publisher Konami has revealed that Metal Gear Solid is the only one of the precious trilogy collected in Metal Gear Solid: Master Collection Vol. 1, it will remain locked at 30fps.
This is despite it being confirmed to the media that the Master Collection (and therefore, you guessed it, everything in it) had a "target" of 1080p and 60fps. It would have been nice to get these details in the last round, but here we are. Konami has released an ominous image detailing the potential art output of each title, which you can see below.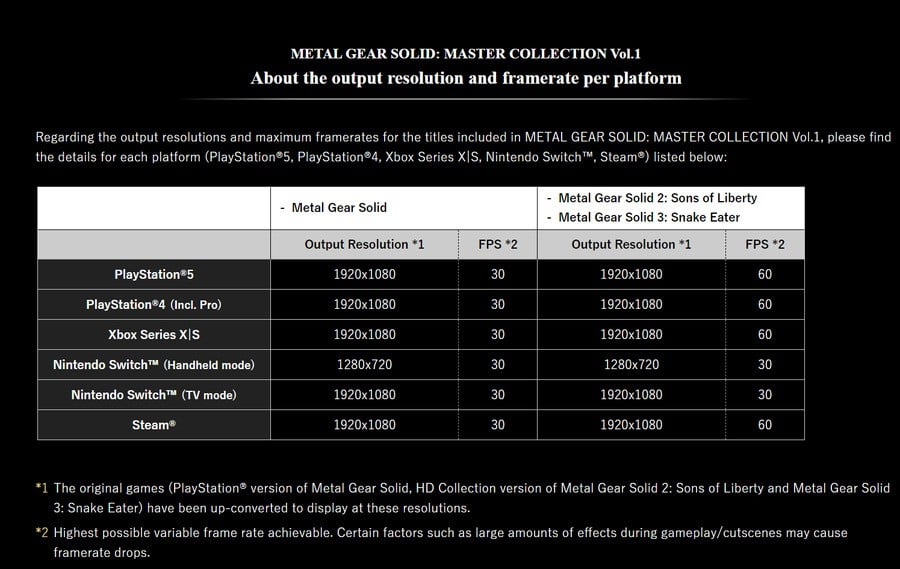 It's worth highlighting this finally, under warning *2, which states: "Highest variable frame rate achievable. Certain factors such as large amounts of effects during gameplay/cut scenes may cause frame rate drops."
30fps seems to be the upper limit and is not necessarily stable. And at the risk of burying the premise here, this seems to be the case for Sons of Liberty and Snake Eater as well. There is a subtle but crucial distinction between locking a game's frame rate to A number such as 60 or locked in 60, which will greatly impact the gaming experience for those who are sensitive to such things.
"Web specialist. Lifelong zombie maven. Coffee ninja. Hipster-friendly analyst."