---
No doubt: Christmas will have snow. However, these elements must be taken into account when driving. Caution is required on the roads for the next two days.
Many roads are already closed to traffic. The Côte-Nord is particularly concerned because route 138 is currently impassable.
1. Icy roads
During the day on Friday, a sudden chill swept across southern Quebec: within hours, the mercury dropped 10 degrees below freezing. The consequences? The wet surfaces froze, turning the road into a veritable skating rink. These conditions will continue on Saturday, adding some snowflakes to the already very slippery roads.
2. Risk of fogging
Wind is also persistent and can affect visibility. After a high recorded on Friday afternoon in the Quebec region, the trend will be down through Sunday. Wind gusts of 50 to 70 kmph are expected in some areas, including metropolitan areas. These wind-entrained waves can complicate already difficult road conditions.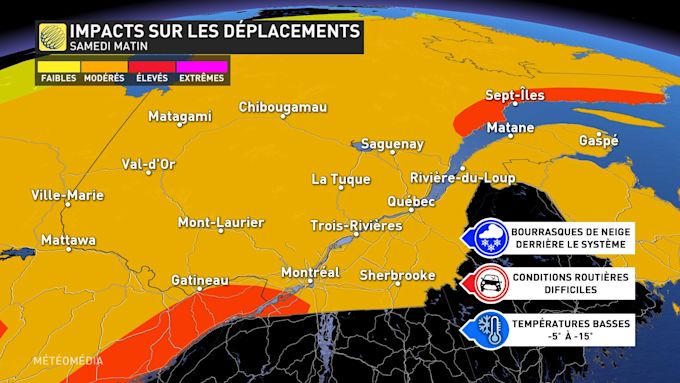 3. Blowing snow conditions
Finally, the risk of snow will be very high and widespread across the province on Saturday. Freshly falling snow, which can be easily blown away by winds, can significantly reduce visibility on roads. The event will continue on Sunday, albeit at a reduced scale.
Another phenomenon worth watching closely is ice caps. As a reminder, a snow blade is a small flow of snow pushed by the wind and cutting across a traffic lane. Traveling on roads affected by this phenomenon is dangerous.
So be careful and slow down for safe travel this Christmas weekend.
In collaboration with meteorologist Patrick Duplessis
---
SEE ALSO: IN PICTURES: Storm hits Quebec
"Music geek. Coffee lover. Devoted food scholar. Web buff. Passionate internet guru."